SOLIDWORKS Anda "lag" saat buka file desain? Salah satu solusinya adalah dengan menggunakan Large Design Review mode salah satu fitur yang jarang digunakan namun bisa menambah produktifitas Anda.
"Ingin mengukur satu part di assembly, lebih lama buka assembly-nya daripada ngukurnya." Pernahkah Anda mengalami hal tersebut? Saat Anda membuka file assembly dan ingin melihat semua komponen dan mungkin melakukan pengukuran tanpa perlu membuka semua fitur yang ada di dalam part/assembly, kami menganjurkan Anda menggunakan Large Design Review Mode (LDR). Dirilis di SOLIDWORKS 2012 fitur ini hanya membuka sedikit data pada assembly Anda, namun tetap menyediakan fitur-fitur yang berguna.
Note: artikel ini menggunakan singkatan LDR untuk Large Design Review, bukan Long Distance Relationship. J
Cara mengakses Large Design Review Mode:
Untuk membuka assmebly dalam Large Design Review mode, klik Open (Standard toolbar) atau File > Open .
Pada dialog box, pilih file assembly yang akan Anda buka, lalu pada Mode, pilih Large Design Review. Selanjutnya klik Open.
gambar Large Design Review Mode Open Dialog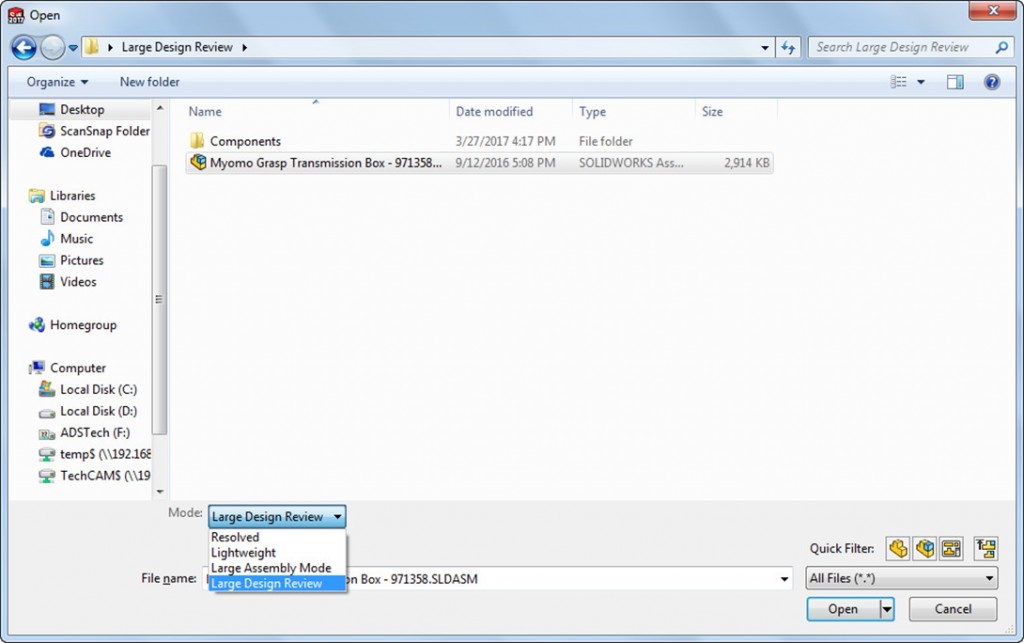 LDR mode membuka assembly Anda hanya dalam beberapa detik dan mengefesiensikan waktu Anda, dengan LDR mode Anda tetap bisa melakukan:
Mengakses FeatureManager design tree
Membuka Components
Melakukan pengukuran
Membuat Section View
Hide dan show components
Membuat, edit, dan mengecek walk-throughs
Gambar Large Design Review Features.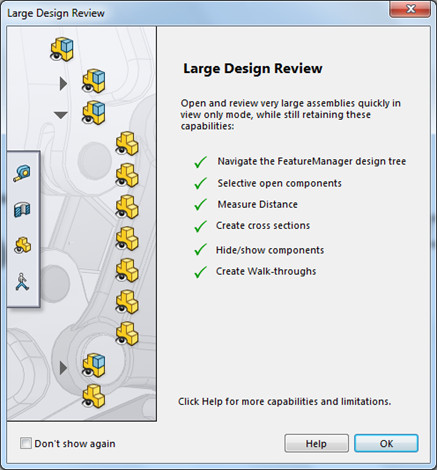 Saat LDR mode aktif akan ada toolbar khusus di CommandManager dan ikon mata di FeatureManager design tree pada setiap part dan sub-assembly sebagai penAndaan LDR mode:
Gambar Large Design Review Mode Active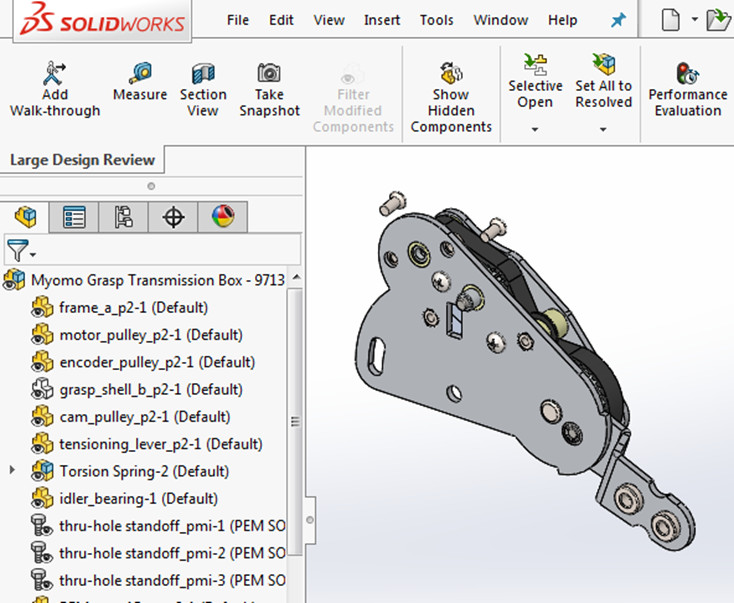 SOLIDWORKS Large Design Review membuat Anda lebih produktif dan mengefisiensikan waktu Anda dengan hanya menampilkan graphic dari data model yang Anda buka.
Jika Anda ingin keluar dari LDR Mode tanpa keluar dari assembly, klik kanan pada FeatureManager design tree dan pilih Set All to Resolved atau Set All to Lightweight.

Best Regards,
Panji Kusmanto | Technical Support
Arisma Data Setia | Authorized SolidWorks reseller since 1996