Untuk tutorial SOLIDWORKS kali ini kita akan membahas tentang kemampuan dalam produk SOLIDWORKS Simulation Professional yaitu Frequency Analysis untuk mencari frekuensi alami dari sebuah Yoke dengan kondisi Yoke dalam kondisi fixture dan mengalami beban torsi.
Menginput Material/bahan yang digunakan
Disini bahan yang digunakan adalah Carbon Steel Sheet. Dalam SOLIDWORKS simulation sudah tersedia material properties dan standar yang digunakan dalam standar internasional. Adapun jika standar ini belum mencukupi, bisa menggunakan custom "user defined".
2. Memilih bagian yang menjadi tumpuan
Pada bagian ini dipilih sisi atau entities yang diasumsikan tersambung dengan benda lain ataupun yang menempel dengan tanah dan menjadi sisi yang tidak bergerak selama proses simulasi dilakukan.

3. Memilih sisi atau entities yang mengalami gaya atau pembebanan eksternal
Disini bagian yang mengalami gaya adalah area spline dan gaya yang dialami adalah torsi sebesar 1000Nm. Ada berbagai jenis beban eksternal yang bisa diinput, beberapa diantaranya adalah Force, Pressure, Torque, dll.

4. Melakukan Meshing
Setelah penginputan batasan kondisi pada model sudah selesai, maka dilakukan meshing pada model. Analisa yang digunakan pada SOLIDWORKS Simulation adalah menggunakan FEA (Finite Elemen Method). Pada proses ini elemen-elemen dibuat pada seluruh bagian model.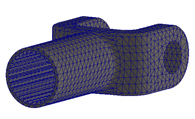 5. Mengatur jumlah number of frequency
Pengaturan ini digunakan untuk mengatur berapa banyaknya frekuensi alami yang akan keluar sebagai output analisa, sebagai contoh apabila kita mengatur number of frequency sebanyak 5 maka analisa yang kita lakukan akan memberikan 5 frekuensi alami sebagai outpunya.
Klik kanan frequency study kemudian klik kiri properties

Pada number of frequency masukkan nilai 5
6. Run Simulation
Lalu setelah proses meshing selesai, proses analisa mulai dilakukan.
7. Post Process
Ada beberapa plot hasil analisa yang bisa dilihat, beberapa diantaranya adalah :
A. Mode Shape
Memperlihatkan visual bentuk dari model saat beresonansi pada frequency tertentu

B. List Resonance Frequency
Memperlihatkan frequency alami dari model yang dianalisa
Klik kanan result kemudian pilih List Resonant Frequency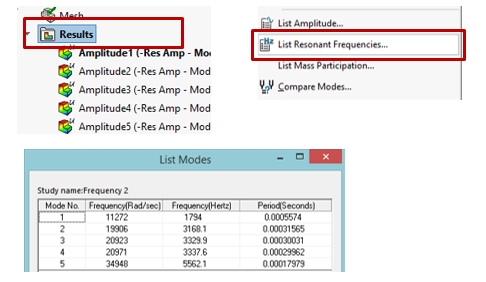 Sekian tutorial SOLIDWORKS kali ini, selamat mencoba