Dijendela Mass Properties kita bisa jumpai beberapa parameter lain seperti pusat keseimbangan (CenterofMass) dan juga Momen Inersia seperti pada gambar berikut: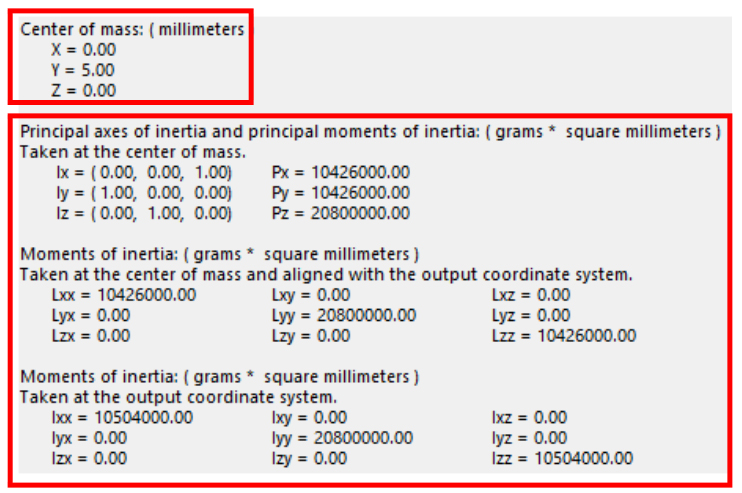 Center of Mass merupakan lokasi titik keseimbangan suatu komponen terhadap titik kordinat sistem sedangkan Momen Inersia merupakan kelembaman suatu struktur untuk berotasi terhadap sumbu putarnya (porosnya).
Ketiga parameter tersebut seperti Massa, Center of Mass dan Momen Inersia merupakan parameter yang sangat mempengaruhi terhadap suatu analisa kekuatan struktur (FiniteElementAnalysis) dan analisa gerakan (MotionAnalysis) yang digunakan pada SOLIDWORKS Simulation dan SOLIDWORKS Motion.
Ketika mendesign suatu komponen yang harus memiliki berat sekian Kg, titik kese-timbangan (CenterofMass) diposisi tertentu dan harus memiliki Momen Inersia tertentu , kita mengalami kesulitan untuk mengubah bentuk ataupun mengubah Densitas Material yang digunakan. SOLIDWORKS mempunyai suatu pilihan yang disebut Override Mass Properties untuk mengatasinya.
Selanjutnya kita akan melakukan modifikasi ketiga parameter tersebut dengan mengklik Override Mass Properties seperti berikut:

Selanjutnya berikan centang pada Semua Parameters dan ubahlah semua parameter tersebut menjadi seperti berikut dan klik OK: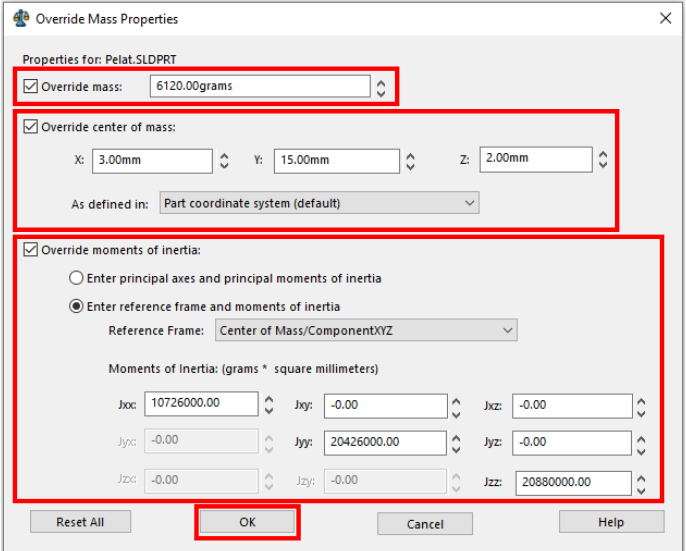 Selanjutnya dapat dilihat perubahan pada Mass Properties untuk komponen yang telah diubah propertiesnya menjadi seperti berikut: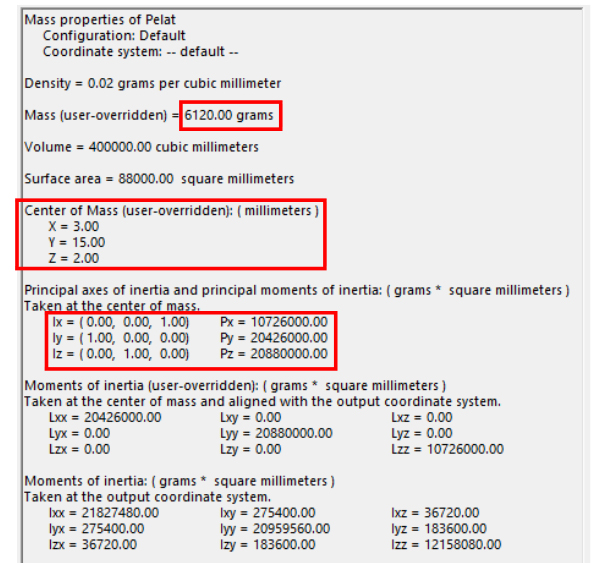 untuk informasi seputar SOLIDWORKS mengenai Harga, support, training, jasa dan konsultasi bisa menghubungi kami PT Arisma data Setia – Reseller Resmi SOLIDWORKS Di Indonesia