Pada tutorial solidworks kali ini, kami akan membahas mengenai perbedaan fitur Delete/Keep Body dan Delete Face.

Fitur Delete/Keep Body kita pakai saat kita membuat banyak bodies dalam 1
part, atau sering kali disebut dengan Multi Body part. Multi body part ini biasanya kita buat
untuk membuat semua komponen dalam 1 part terlebih dahulu, sebelum nantinya tiap part
bisa kita simpan menjadi masing-masing file, dan kita buat assembly-nya.
Misal pada gambar di bawah ini, dalam 1 part, kita mempunyai 10 bodies. Kita bisa klik kanan pada folder Solid Bodies, dan kita pilih fitur Delete/Keep Body.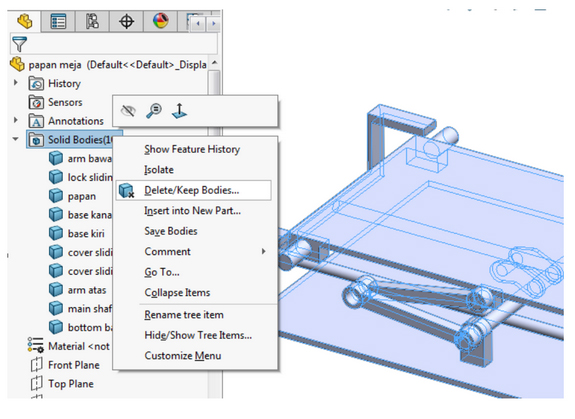 Pada fitur Delete/Keep Body terdapat 2 type yang bisa kita pilih. Delete bodies,
artinya kita pilih bodies-bodies yang akan kita hapus, bodies yang lainnya
akan tetap ada. Sedangkan apabila kita pilih Keep Bodies, yang kita pilih adalah bodies
yang akan tetap kita pertahankan (tidak dihapus), dan bodies yang lainnya akan
otomatis terhapus.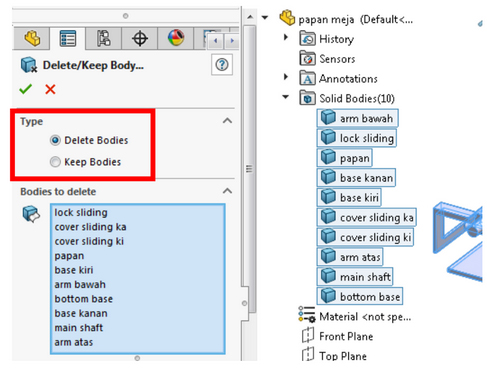 Lalu, bagaimana fungsi dari fitur Delete Face ??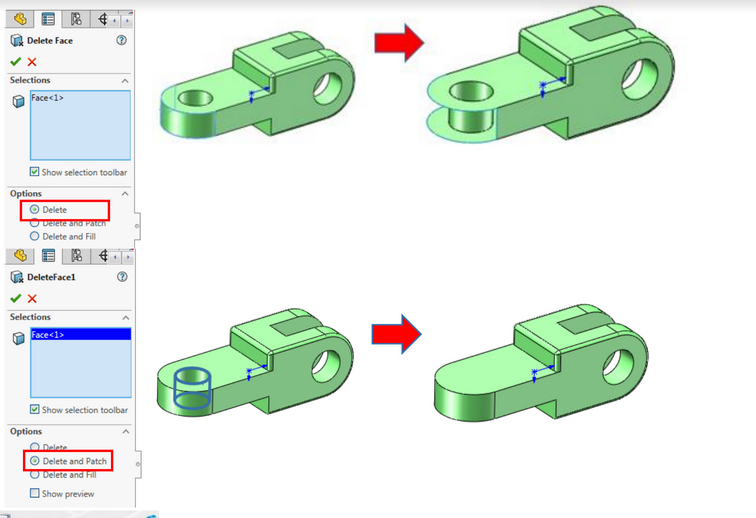 Fitur Delete Face mempunyai 3 pilihan fungsi. Yang pertama yaitu Delete, fungsinya yaitu untuk menghapus bidang atau face yang kita pilih, dan kemudian akan mengubah part dari solid bodies menjadi surface bodies.
Kedua, yaitu pilihan Delete and Patch, fungsinya untuk menghapus face yang kita pilih, dan mengembalikan seperti semula. Misal kita pilih face pada lubang, maka lubang tersebut akan terhapus.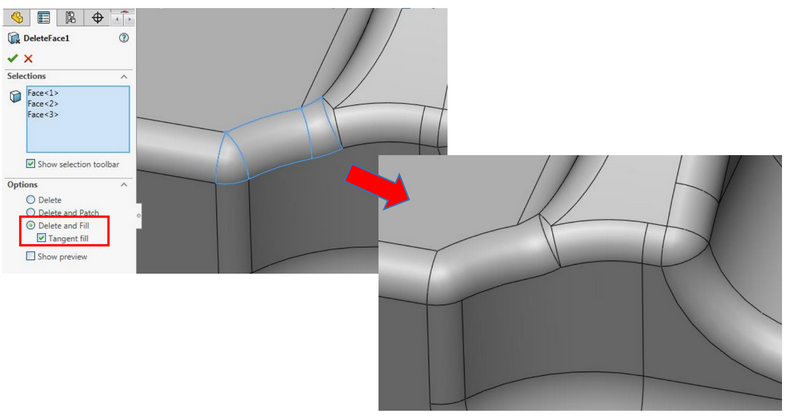 Ketiga yaitu Delete and Fill, fungsinya yaitu menghapus bidang surface yang kita pilih, kemudian akan di isi atau digantikan dengan surface baru. Untuk beberapa bidang
surface, bisa untuk menghilangkan garis / edge pada face tersebut, seperti pada gambar di atas.
Demikian tutorial solidworks kali ini dan selamat mencoba. Apabila ingin request
materi weekly tips and trik yang lainnya dan jika anda menemui kesulitan kami juga menyediakan jasa gambar 3d dan analisa simulasi, silakan email ke solidworks-support@arismadata.com