Pernah kah Anda mengalami masalah ketika membuka SOLIDWORKS
tetapi tidak mau terbuka? ternyata hal tersebut bisa jadi bukan karena
kendala di SOLIDWORKS Anda ataupun di Komputer atau Laptop Anda,
bisa jadi salah satu kendalanya terjadi karena Windows Firewall yang
ternyata memblokir SOLIDWORKS untuk bisa digunakan di Komputer
atau Laptop Anda.. Gimana kesel kan? Hehe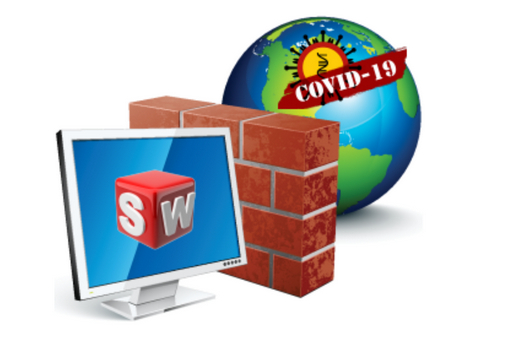 Disisi lain kita mesti mengaktifkan Windows Firewall untuk bisa
melindungi Perangkat kita dari virus COVID – 19 ehh virus computer
maksudnya hehe dan sejenisnya, tapi disisi lain kita mesti desain
menggunakan SOLIDWORKS, apa ada solusinya supaya kedua hal
tersebut bias berjalan dengan baik??
Oh tenang saja, kami selalu datang membawa solusi untuk masalah
anda, cek di slide selanjutnya untuk solusi masalah Anda
Membuka Ports:
Ketik Windows Defender Firewall with Advanced Security pada tombol
search windows Anda

Atau Buka Control Panel -> Pada jendela Adjust your computer's
settings, Klik System and Security -> kemudian pilih Windows Defender
Firewall -> kemudian di jendela sebelah kiri, Klik Advanced settings.
Bila Anda mengikuti salah satu dari dua langkah diatas maka akan
muncul tampilan seperti ini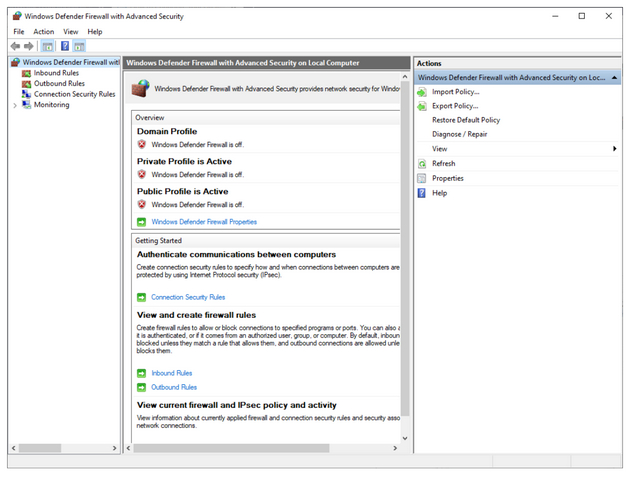 Membuat rule -> Pilih Inbound Rules: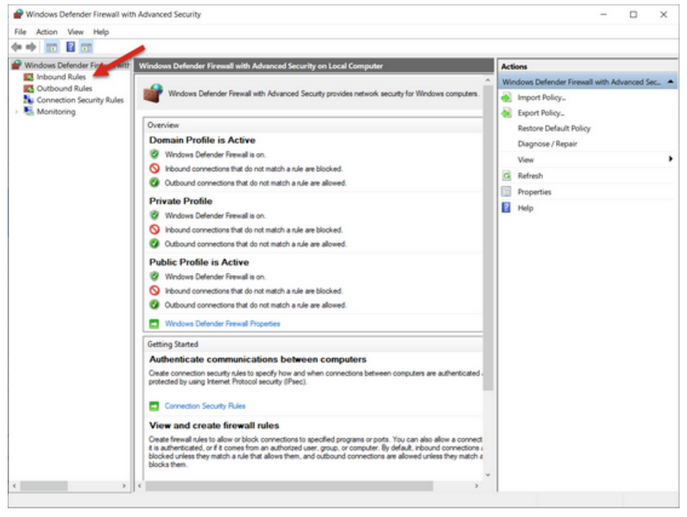 Step 2
Pilih New Rules:

Step 3
Pilih Port radio button dan Klik Next: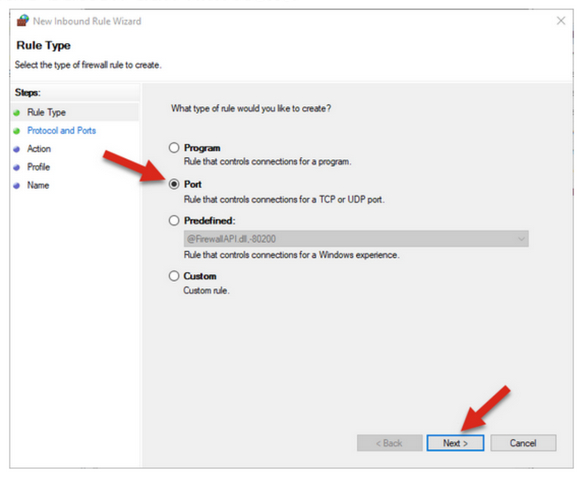 Berikut adalah port – port yang anda bisa ingat apabila mengalami
masalah spesifik pada SOLIDWORKS

Step 4
Kita akan terapkan rule
untuk TCP Ports 3030,
1433, 1434, 25734,
25735. Setelah
memasukan port yang
dipisah dengan comma
selanjutnya pilih Next: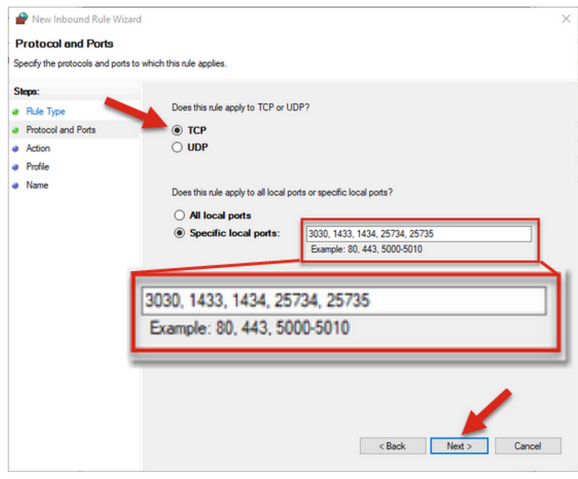 Step 5
Pilih Allow the connection dan pilih Next: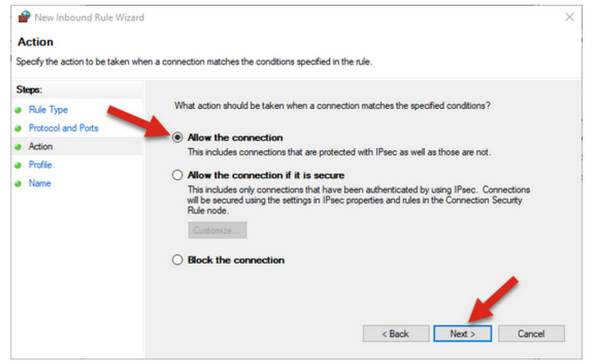 Step 6
Pilih Profile dimana rule akan digunakan dan pilih Next:
*Domain, Private, dan Public akan terpilih secara default. Bicarakan
dengan team IT Anda jika tidak yakin pilihan yang diperbolehkan
diperusahaan Anda.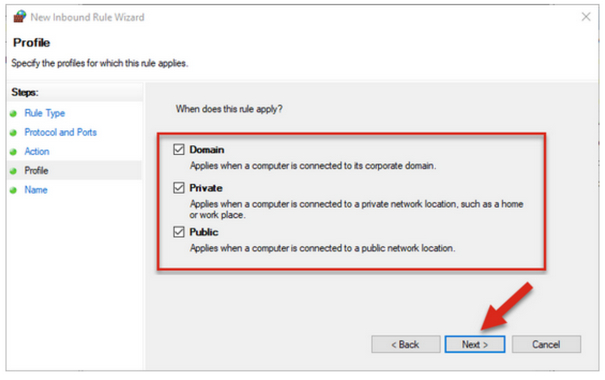 Step 7
Beri Nama pada port
connections anda dan
pilih Finnish: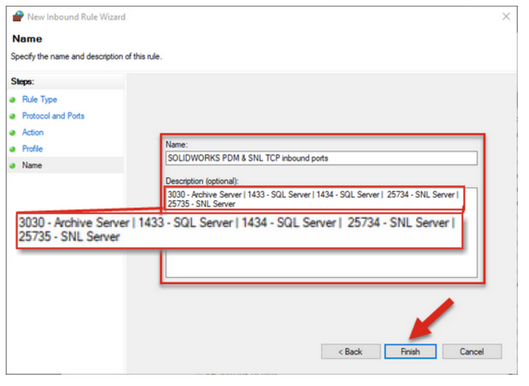 Step 8
We can now verify the rule was created, we should see a line in the
Inbound Rules with our new rule: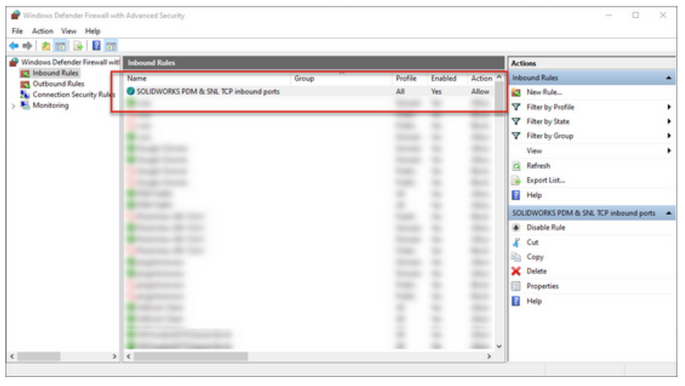 Sangat direkomendasikan untuk Anda membuka UDP ports yang
corresponding untuk memungkinkan server untuk mem-broadcast
secara otomatis pada jaringan.
Demikian informasi yang dapat kami sampaikan, tetap jaga terus
kesehatan Anda di masa Pandemi virus COVID-19, tetap dirumah, jaga
jarak dan jaga kebersihan diri serta lingkungan.
ADS pun memberikan solusi bagi Anda yang ingin bekerja dari
rumah dengan memberikan lisensi COVID-19 bagi pengguna aktif
maintenance yang menggunakan lisensi Network