3D SCULPTOR – 3DEXPERIENCE ROLE
Membuat desain produk lebih mudah dan cepat dengan xShape
Melanjutkan dari sesi Webinar sebelumnya, yang membahas mengenai kelebihan xApps atau aplikasi-aplikasi pada platform 3DExperience dibanding dengan SolidWorks Desktop. Kami hadirkan lagi webinar yang pastinya tidak kalah menarik dengan webinar-webinar dari Arisma Data Setia. Karena webinar berikutnya ini tidak akan sekedar bisa menambah wawasan Anda, tapi juga bisa untuk mewujudkan ide-ide design Anda, yang mungkin out of the box.
Webinar berikutnya ini akan membahas mengenai 3D SCULPTOR, yaitu salah satu Role dari 3DExperience Platform. Kemampuan dari 3D Sculptor dengan aplikasi xShape di dalamnya ini sangat fantastis, karena bisa Anda pakai untuk membuat surface modeling yang kompleks semisal produk mainan, electronic, consumer product, gadgets, dll.
Desain surface modeling yang cukup rumit atau sering disebut juga sebagai Organic Shape bisa Anda kerjakan dengan mudah, karena pada 3D Sculptor menggunakan metode sub-D modeling, atau mirip dengan pemodelan patung dengan tanah liat atau clay.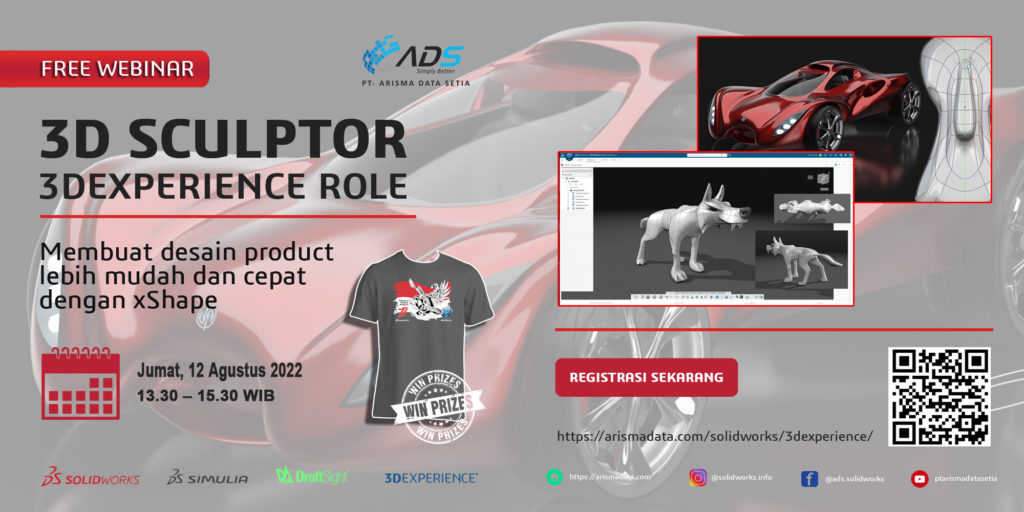 Supaya tidak ketinggalan dengan Webinar tersebut, Anda bisa langsung mendaftar di sini bit.ly/3DxShape .
Untuk informasi lebih lanjut mengenai update SolidWorks versi terbaru, Anda bisa email ke info.solidworks@arismadata.com atau chat WA ke https://wa.me/6281350004156 .