Cara Membuat BOM templete di drawing dan assembly pada Solidworks
Salah satu teori yang saya coba sampaikan kepada peserta training SOLIDWORKS adalah kemampuan mengulang dan mencoba untuk mengambil langkah-langkah untuk hanya melakukan langkah setup sekali, dan menyimpannya untuk digunakan kembali nanti.
Dengan Template SOLIDWORKS BOM menawarkan kita kesempatan untuk melakukan hal itu.
Setelah menghabiskan waktu Anda yang berharga menciptakan pengaturan BOM yang sempurna. Pengaturan Anda mungkin berisi kolom yang tepat, dan spasi – mungkin itu bahkan berisi persamaan yang Anda lebih suka untuk digunakan kembali di tempat lain. Kita dapat menangkap dan menggunakan kembali pengaturan BOM dengan menyimpan file template Bill of Material (* .sldbomtbt).
Jangan biarkan ekstensi ekstensi pengaturan file menipu Anda, karena menyimpan template akan membuatnya tersedia untuk digunakan saat berikutnya Anda menempatkan BOM dalam parts atau assy parts..
To save a SOLIDWORKS BOM Template file:
1. Pilih BOM yang ada untuk membuka judul kolom dan baris.
2. Klik kanan pada BOM dan pilih "Save As…"
3. Ini akan memungkinkan Anda untuk menyimpan template BOM di sistem Anda.
4. (Lokasi default adalah seperti di bawah ini:
"C:\Program Files\SOLIDWORKS Corp\SOLIDWORKS\lang\english")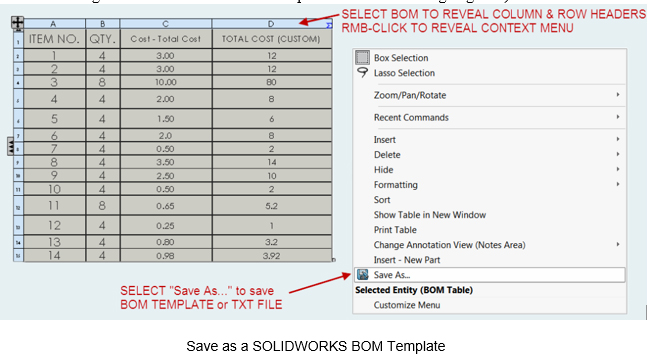 To use a previously saved SOLIDWORKS BOM Template file:
1. Insert (Menu) > Tables > Bill of Materials
2. Click the "Favorites" button beside the default BOM Template name
3. Browse and select the desired BOM Template from the directory.