Halo, sobat SOLIDWORKS. Pada kesempatan kali ini, kita akan membahas tentang salah satu feature di menu Tools SOLIDWORKS Application, yakni Part Reviewer. Apa itu "Part Reviewer"? apa fungsi dari Part Reviewer? dan bagaimana cara menggunakannya?
Feature Part Reviewer digunakan dalam menu part pada SOLIDWORKS yang berfungsi untuk mempermudah pembelajaran dalam pembuatan sebuah part. Dari feature ini kita dapat melihat langkah-langkah pembuatan sebuah part dengan menggunakan feature-feature penting (misal : extrude boss, loft surface, flang lange, dan lainnya) yang ada di SOLIDWORKS. Selain itu, kita juga dapat melihat sketch-sketch dalam pembuatan part lengkap dengan ukuran atau dimesinya. Feature ini pastinya akan membantu anda menjelaskan pembuatan part yang telah anda design, terutama kepada para user atau pengguna yang baru atau sedang mempelajari SOLIDWORKS.
Untuk lebih jelasnya, kita dapat melihat caranya seperti dibawah ini ;
Cara untuk mengaktifkan feature Part Reviewer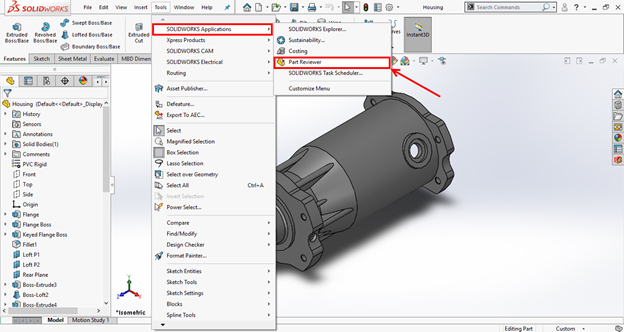 Pilih menu Tools pada Pull Down Menu pada SOLIDWORKS. Arahkan kursor pada SOLIDWORKS Application. Kemudian pilih Part Reviewer.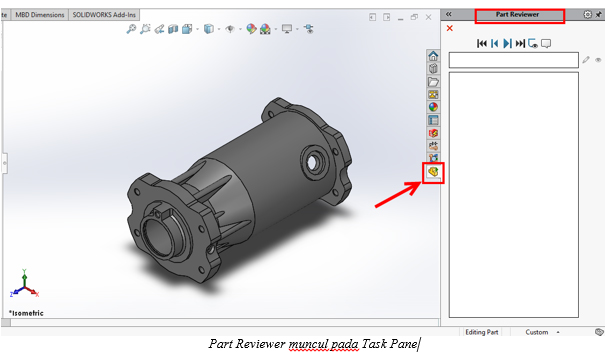 Setelah Part Reviewer pada Tools Toolbar diklik, maka Part Reviewer akan muncul pada Task Pane. Dari file part yang telah anda buka maupun anda ingin membuka file part baru, anda dapat menggunakan Part Reviewer yang telah aktif pada Task Pane. Jangan lupa untuk mengklik icon Auto Show pada bagian pojok kanan atas dari Task Pane, agar menu Task Pane tetap terbuka.


Gunakan bagian pengontrol seperti pada gambar di atas, untuk melihat tiap proses atau tiap feature yang digunakan pada saat pembuatan part. Pada icon paling kiri dari bagian kontrol (jump to Begining) berfungsi untuk menampilkan step paling awal dai pembuatan part, sementara bagian paling kanan dari bagian kontrol (jump to End) berfungsi untuk menampilkan step paling akhir. Pada bagian tengah, ada icon Step Beck dan Step Forward, yang masing-masing berfungsi untuk melihat step sebelum dan sesudahnya.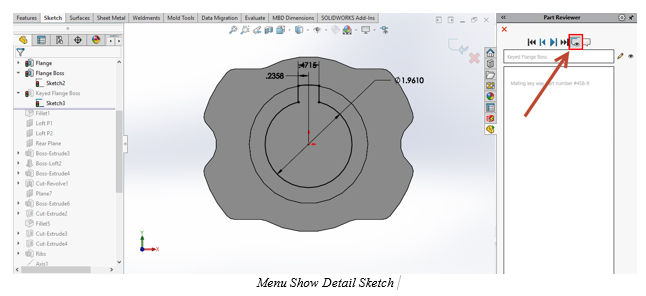 Kemudian, juga terdapat menu detail Show Detail Sketch, yang dapat menampilakan bentuk sketch secara detail lengkap dengan ukuran yang diberikan pada sketch.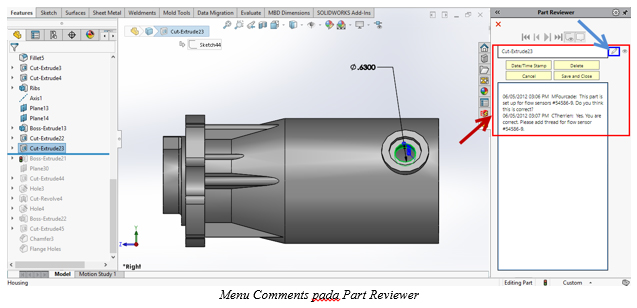 Selain itu, anda juga dapat memberikan comments dari tiap step yang dilakukan. Ini dapat berfungsi sebagai catatan intuk rekan design anda, maupun juga untuk rekan tim lainnya. Untuk dapat membuat comment ataupun mengedit command, anada cukup mengklik icon pensil, maka kolom comment akan langsung aktif.
Demikian pembahasan untuk feature Make Independent. Semoga info ini menambah pengetahuan kita tentang proses Assembly pada SOLIDWORKS.