SOLIDWORKS Manage mampu menangani project Anda. Seorang project manager yang nantinya akan fokus dalam penanganan project, sangat membutuhkan fitur Project Management yang ada di SOLIDWORKS Manage. Mari kita lihat bagaimana SOLIDWORKS Manage memberikan solusi yang sangat tepat untuk project Anda.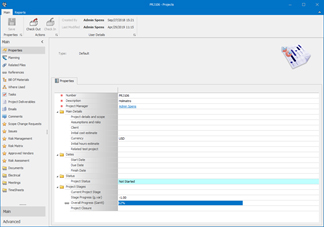 SOLIDWORKS Manage – Project Properties
Saat pertama kali membuka project di SWM, Anda akan disuguhkan dengan layar properties yang berisikan attribute dari project Anda. Pada layar ini Anda mampu mengenali dan memahami apa yang ada di dalam project dari list attribute yang bisa Anda customize sesuai dengan kebutuhan.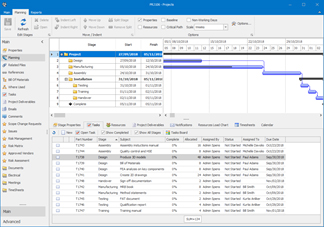 SOLIDWORKS Manage – Project Planning
Hal yang terpenting dari sebuah project planning adalah stage, schedule, dan task. Planning pada SOLIDWORKS Manage memungkinkan kita untuk mengatur secara keseluruhan proses dari tiap stage/step, hingga task/job desk dari masing masing staff atau orang yang berperan di dalam project. SOLIDWORKS Manage menjawab kebutuhan Project Manager dalam penanganan planning dari sebuah project.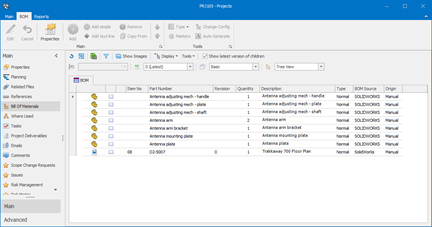 SOLIDWORKS Manage – Bill of Material
Termasuk di dalamnya adalah Bill of Material, sebuah solusi dari SWM yang memungkinkan kita membuat BOM se-fleksibel mungkin yang terintegrasi dengan file CAD Anda. Selain itu BOM dalam SWM mampu memungkinkan kita untuk membuat record atau item BOM dengan mengetik manual sehingga kita dapat leluasa menambahkan item-item yang tidak ada di dalam data CAD ke dalam BOM. Item yang bisa ditambahkan selain teks, juga bisa gambar, warna, dan item-item yang bisa Anda customize sesuai kebutuhan.
Beberapa fitur di atas hanya sebagian kecil dari fitur-fitur yang ada pada SWM – Project Management. Masih banyak fitur yang akan sangat membantu Anda mengolah project menjadi lebih mudah dan tersistem.
Konsultasi gratis bisa langsung hubungi kami
Jakarta : (021) 25681188
Cikarang : (021) 2961 9225
Surabaya : (031) 807 4179