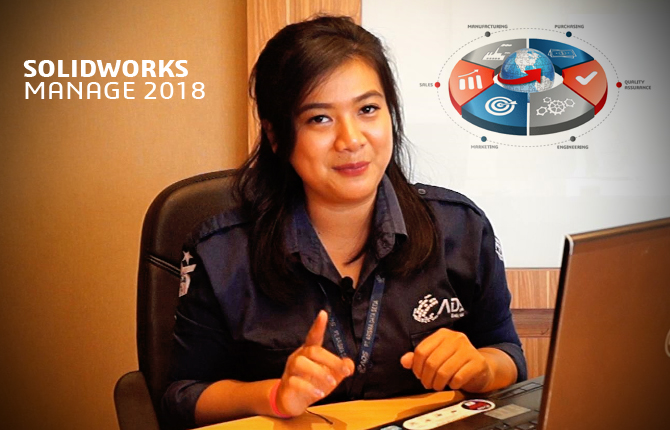 solidworks manage 2018 – Seiring pertumbuhan bisnis anda, data-data file project Anda akan tumbuh dan semakin lama akan menjadi sangat kompleks, Sehingga diperlukan suatu alat untuk pengelolaan data tersebut.
Mengelola proyek biasanya melibatkan beberapa software yang tidak terhubung antara software satu dengan yang lainnya, dan bahkan antara tim project, dokumen project, dan data CAD project tidak saling terintegrasi.
Dengan menggunakan Solidworks Manage, tim project, dokumen project, dan data CAD project akan saling terintregasi.
berikut adalah 4 kemampuan dari SolidWorks Manage untuk membantu anda, dalam mengelola dan memantau progress project di perusahaan anda. :
1. Dashboards.
Dashboards memudahkan kita untuk melihat langsung progress tugas yang diberikan ke masing-masing individu, apakah sudah selesai, belum selesai, atau belum dikerjakan.
Progress tim dalam setiap bulan, juga dapat dilihat didalam dashboard. Progress tugas individu akan terintegrasi kedalam progress tugas tim, dan progress tugas tim akan terintegrasi kedalam total progress dari project yang sedang berjalan.
2. Dengan Project management.
Anda dapat membuat planning aktifitas untuk masing-masing project. Dan berapa persentase progress dalam masing-masing aktifitas, Kemudian timeline pengerjaan dapat diatur dengan sangat mudah. Siapa orang yang bertanggung jawab dan siap saja orang yang terlibat dalam sebuah project dapat dilihat dan diatur
Sebuah tugas dapat anda buat dengan berisi deskripsi dari tugas tersebut, berapa lama waktu yang dialokasikan, lampiran yang dibutuhkan untuk tugas ini, seperti dokumen prosedur dan file mana yang harus dikerjakan dapat anda lampirkan. Setelah itu anda dapat memilih siapa individu yang akan anda tugaskan untuk mengerjakan tugas ini.
Kemudian hal-hal yang menjadi Issue project dan Risk Management dapat anda lihat, sehingga anda dapat melakukan tindakan agar tidak menjadi masalah didalam project.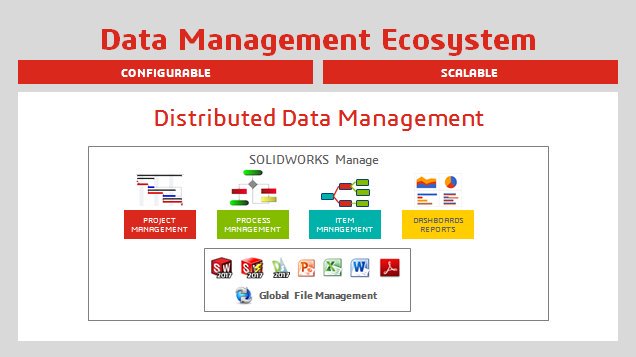 3. Bill of material (BOM)
Solidworks manage terintegrasi langsung dengan SolidWorks PDM. Sehingga Bill of material engineering dari file CAD dapat terintegrasi di SolidWorks Manage, Kemudian file-file pendukung seperti technical information, service instruction, assembly instruction, dan sebagainya dapat secara mudah ditambahakan kedalam Bill of Material Manufacturing. Sehingga Bill of Material yang dibutuhkan untuk keseluruhan project, dapat berada dalam 1 lokasi file yaitu Bill of material Manufacturing. Dan anda juga dapat melakukan komparasi antara Bill of material Engineering versus Bill of material Manufacturing.
4. Process management.
Process management berfungsi untuk membuat electronic workflow terkait approval dokumen seperti Bill of material Approval, Budged approval dan bahkan untuk pembuatan workflow enginnering change. Pembuatan workflow dilakukan dengan cara drag and drop proses. Kemudian notifikasi bahwa ada dokumen yang perlu di approve, dan informasi dokumen di approve atau tidak, bisa menggunakan notifikasi email.
Jika anda ingin mencoba langsung solusi SolidWorks manage 2018, atau konsultasi dengan kami?? hubungi kami segera.!! Gratis !!
lihat video solidworks manage dibawah ini: